Google on Wednesday warned iOS developers who use Google ad technology that they may see less revenue as Apple implements its privacy clampdown.
Apple's App Tracking Transparency (ATT) framework, said Christophe Combette, group product manager for Google Ads, in a blog post, "will reduce visibility into key metrics that show how ads drive conversions (like app installs and sales) and will affect how advertisers value and bid on ad impressions."
Thus blinded by Apple's transparency initiative, app publishers "may see a significant impact to their Google ad revenue on iOS after Apple's ATT policies take effect," he said.
At its developer conference last year, Apple announced plans to impose stronger privacy controls through a framework called App Tracking Transparency (ATT).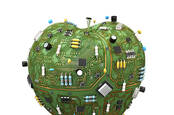 Apple fires warning shot at Facebook and Google on privacy, pledges fight against 'data-industrial complex'
It consists of two parts. First, app makers across all Apple's platforms must seek authorization from app users if their apps collect data about users and share it for tracking purposes with other apps and websites. Second, app makers must disclose app privacy practices on App Store product listing pages in a format likened to nutrition labeling for food.
The privacy practice disclosure requirement took effect on 8 December 2020 for all newly submitted apps and for updates to existing apps.
Google coincidentally hasn't updated most of its iOS apps since the policy took effect.
With the exception of Google Translate, popular Google iOS apps like Google (search), Google Maps, Google Drive, Gmail, Google Assistant, Google Calendar, Google Pay, and others sport iOS App Store listings that say: "No Details Provided. The developer will be required to provide privacy details when they submit their next app update."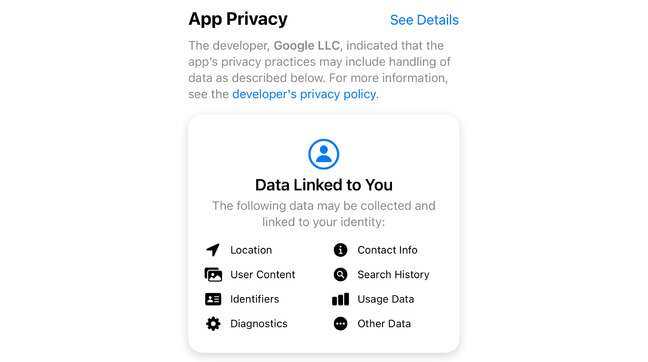 Click to enlarge
Combette, however, insisted privacy labels for Google apps are coming.
"We are working hard to understand and comply with Apple's guidelines for all of our apps in the App Store," said Combette. "As our iOS apps are updated with new features or bug fixes, you'll see updates to our app page listings that include the new App Privacy Details."
If those listings are similar to Google Translate, they will be lengthy: the iOS Google Translate disclosure mentions email address, name, phone number, user ID, device ID, product interaction data, location data, search history, diagnostic data, and other data types among the information the app collects.
Google didn't respond to a request to explain why the labeling process remains incomplete.
How dare people be asked?
The authorization aspect of ATT requires the implementation of the App Tracking Transparency framework, an API that defines how system-permission alert requests and app-tracking authorization requests are presented to the app user.
Combette's concern about ATT limiting ad revenue follows from the expectation that some portion of users will refuse to allow ad-related tracking when prompted for permission, thereby withholding data that would lead to the presentation of more relevant, better performing ads.
He advises iOS developers implementing Google ad tech to upgrade to version 7.64 of the Google Mobile Ads SDK, which adds support for Apple's SKAdNetwork API, the iPhone maker's privacy-flavored analytics service. And he said Google is talking to Apple to ensure that advertisers can accurately measure their campaigns in iOS 14.
For its own part, Google aims to steer clear of ATT, which comes into play when data gets shared with third parties. Rather than show ATT prompts that app users may refuse, Combette said Google "will no longer use information (such as IDFA) that falls under ATT for the handful of our iOS apps that currently use it for advertising purposes."
Facebook last August and in December struck a more confrontational tone, calling ATT a threat to small businesses and publishers, without mentioning the potential impact on its own revenue.
In November, in response to an October letter to Apple CEO Tim Cook from eight civil society organizations seeking a faster rollout of ATT, Jane Horvath, senior director of global privacy at Apple, made it clear that Apple sees things differently from Google and Facebook.
"What some companies call 'personalized experiences' are often veiled attempts to gather as much data as possible about individuals, build extensive profiles on them, and then monetize those profiles," wrote Horvath.
"We are not against advertising, we simply think tracking should be transparent and under user control, which will engender user trust that will benefit all." ®