Electronic voting machine maker Smartmatic has sued Fox News, three of its hosts, and two of Donald Trump's loyalists – Rudy Giuliani and Sidney Powell – for an eye-popping $2.7bn in defamation damages over the false claims it stole the 2020 presidential election for Joe Biden.
The lawsuit, filed Thursday with the Supreme Court in New York, accused Trump's personal lawyer Giuliani and ex-federal prosecutor Powell of spreading lies by wrongly claiming that the manufacturer rigged its voting machines in favor of the Democrat contender.
It is said the pair used right-wing TV channel Fox News, along with its hosts – specifically, Lou Dobbs, Maria Bartiromo and Jeanine Pirro – to push this false narrative and effectively run an on-air "disinformation campaign" targeting Smartmatic. The overall goal, we're told, was to discredit the election's results.
Smartmatic's lawyers did not mince their words in their 285-page filing [PDF].
"The Earth is round. Two plus two equals four. Joe Biden and Kamala Harris won the 2020 election for President and Vice President of the United States," it began. "The election was not stolen, rigged, or fixed. These are facts. They are demonstrable and irrefutable."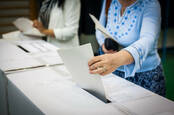 Election security fears doused with reality: Top officials say Nov 3 'was the most secure in American history.' The end
The voting tech biz, in its court filing, said Fox News broadcast entirely bogus claims that Smartmatic's devices were engineered to secretly swing vote counts in Biden's favor in US states where the results were close. Viewers were also, wrongly and bizarrely, told Smartmatic was controlled by the communist leaders of the Venezuelan government, it is said.
It should be noted that Smartmatic's only role in the 2020 election was to provide equipment for Los Angeles County, and the results there were not even close: it's a Democrat stronghold. There is no credible suggestion Smartmatic rigged any results nor that it was under Venezuela's control.
Smartmatic now wants Fox News et al to cough up $2.7bn to cover economic losses and damages to its reputation, and for any false statements made to be retracted.
"With this action, Smartmatic says: Enough. Facts matter. Truth matters," it wrote in its court paperwork. "Defendants engaged in a conspiracy to spread disinformation about Smartmatic. They lied. And they did so knowingly and intentionally. Smartmatic seeks to hold them accountable for those lies and for the damage that their lies have caused."
Smartmatic said that after it was accused of tampering with the election's results, its employees received hate mail and death threats. It claimed that current and potential clients began to panic. The lawsuit added that Fox News, its hosts Dobbs, Bartiromo and Pirro, and Giuliani and Powell all benefited from Smartmatic's losses.
"Ms Powell used the story to raise money and enrich herself," the lawsuit stated, for instance. "Mr Giuliani used the story to guarantee himself a flow of funds from the sitting President and to sell products. Defendants knew the story could not change the outcome of the election. It could, and did, make them money."
Those on the receiving end of the sueball now have 20 days to respond.
"Fox News Media is committed to providing the full context of every story with in-depth reporting and clear opinion," a spokesperson for the channel told The Register. "We are proud of our 2020 election coverage and will vigorously defend this meritless lawsuit in court."
Representatives for Powell and Giuliani were not immediately available for comment. Last month, Dominion Voting Systems similarly sued Giuliani and Powell for $1.3bn. ®