The RPG Greetings, traveller, and welcome back to The Register Plays Games, our monthly gaming column. It was tricky deciding what to look at for this edition, what with the doozy of Cyberpunk 2077 in our tail lights. As for the New Year, we've been left with the usual dearth of releases so it was time to check out something that's been in development for a while and is almost ready for 1.0.
Since the pandemic shows no signs of slowing and holidays are a distant memory, the much-needed escape offered by video games is to be treasured. But if the azure, pseudo-Caribbean waters of Sea of Thieves aren't enough for your virtual getaway – and we admit loot-hungry player pirates may at times spoil the experience – how about a single-player excursion to an ocean planet?
Subnautica, developed by Unknown Worlds Entertainment, first surfaced in 2014 and soon established itself as the darling of early access funding schemes by providing regular iterative updates that fleshed out the world and mechanics into a complete game four years later.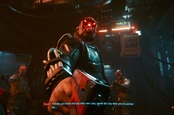 Cyberpunk 2077: There's a great game within screaming to get out, but sadly it was released 57 years too early
Of course, diving in too early on in the development process is an easy way to get stung, reserved only for those who have an intense interest in a title, and I took the plunge once the survival and crafting game had hit the prime time. These days it stands as one of my all-time favourites thanks to the singular experience afforded by exploring a colourful but hostile alien water world.
In a nutshell, the player character is aboard an Alterra Corporation capital ship that crash-lands on 4546B, a "category-3 ocean planet". As the only survivor, it is down to you to a) stay alive amid flora and fauna that want to eat you; b) unravel the mystery of why the Aurora went down; and c) escape.
Oh yeah, there is also this alien bacteria ravaging the planet – and you'll need to figure out how to cure yourself of it before you can leave. As we know, people going out willy-nilly when there's a virulent bug about is a terrible idea.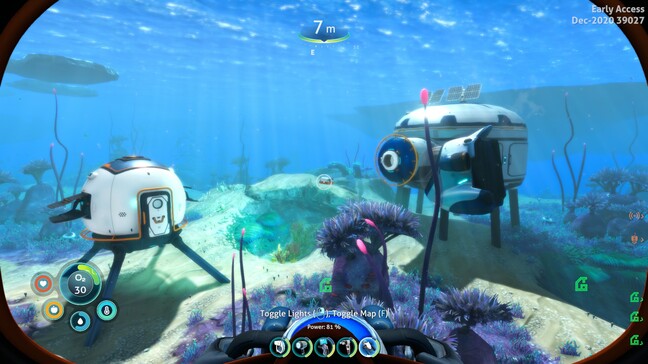 It ain't much but it's home: from left, lifepod, simple base, and Seatruck
You could actually carve out a rather prosperous living on fertile 4546B courtesy of Alterra's whizzbang tech, a fabricator that can print food and water, tools and equipment if it is fed the correct resources. The fabricator, which is built into the lifepod you land in, forms the basis of your existence, and with it you end up able to craft everything from luxurious sci-fi sea bases to a full-blown, 54m-long submarine capable of depths down to 1.7km.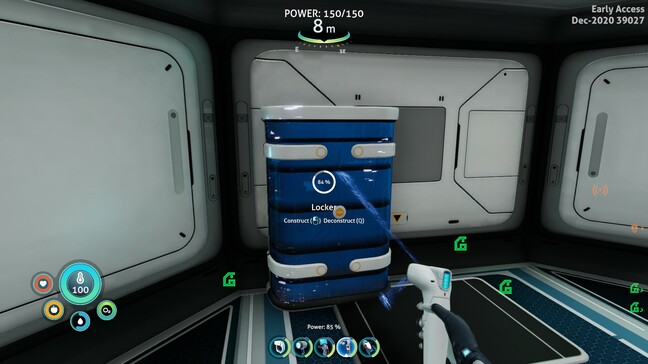 The building tool will handily print your base and internal modules
What made Subnautica remarkable was that, at a time when survival/crafting games were all the rage but almost completely sandbox as a rule (see: DayZ, Minecraft), it was able to tell a compelling story between the periods of frenzied base building. The playable area is set within a sunken volcano, which was a pretty good in-game explanation for why the world sloped off at the edges into an abyss haunted by terrifying and gigantic "ghost leviathans", but it was still dizzying to navigate without the help of a compass.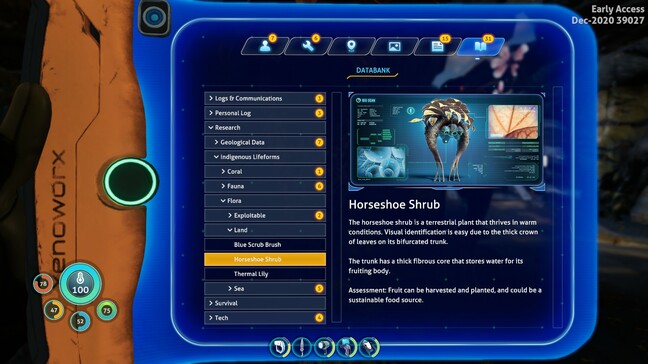 All lifeforms can be scanned for scientific data that may be important to survival
I recall being a bit miffed at first because it was so difficult to pick a direction to explore in without any reference points above the water line. But when I realised you could use the lifepod's radio to pick up distress signals from former passengers' doomed spacecraft, the game took off. Your computer would then locate the signal origin, giving you a goal and purpose, and finding the source would often mean more technology blueprints for your fabricator – eventually including that coveted compass and much, much more.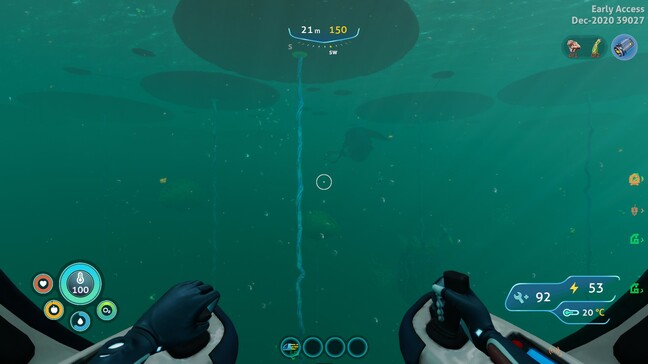 There are loads of fantastic environments and creatures
This would introduce you to new biomes with different resources to craft more complicated machinery like the Seaglide, then the Seamoth, gradually moving on to the aforementioned Cyclops and the Prawn Suit – kind of an underwater Gundam for striding along the seafloor at the most crushing depths.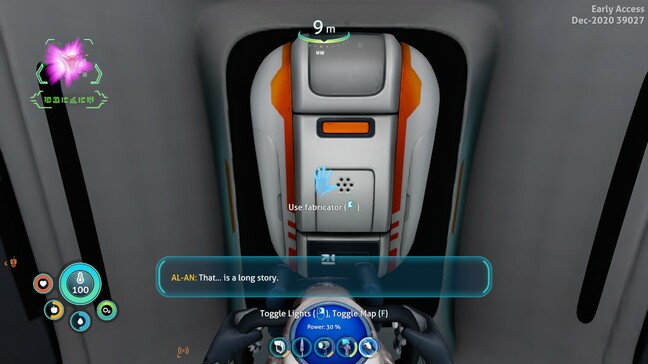 The fabricator is crux of your existence on 4546B
The hulking corpse of the Aurora dominated the featureless skyline. If you could brave the crash site where a "reaper" leviathan had taken up residence, you could actually go and explore the interior, as long as you had crafted the right tools, learning more about the captain and the crew through ship logs and snaffling up more tasty tech blueprints. But if you wanted to focus on building elaborate aquatic mansions for a while, you could do that too. There was no pressure to follow the story.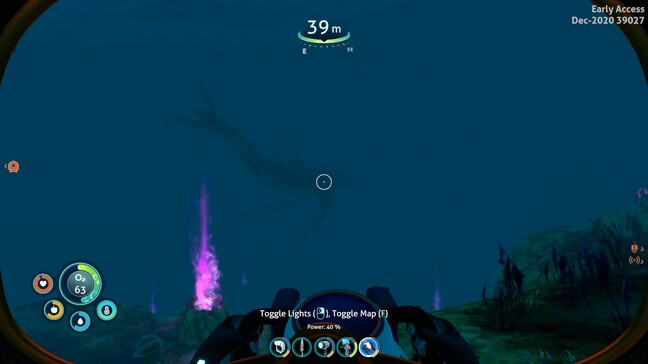 My wetsuit is suddenly feeling warmer than usual
The mystery would eventually lead to making contact with ancient alien infrastructure then downwards into the bowels of the planet, where you'd need to establish a new base among the underwater brine rivers, thermal vents, and magma. We'll leave it there because it's brilliant – you should play it.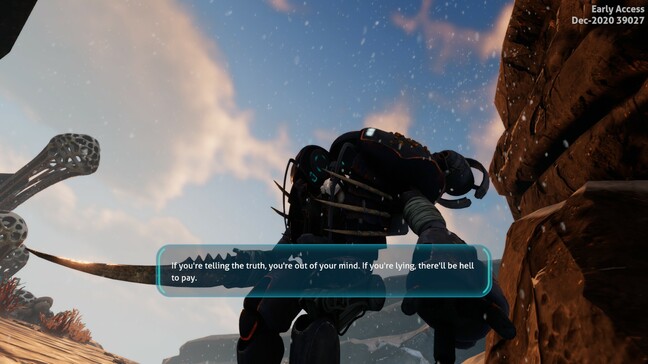 There are plenty of signs that you are not alone
You should play it before you consider picking up the sequel, Subnautica: Below Zero, which began development again in early access on Steam in January 2019, although it functions more as a standalone expansion. Below Zero returns to Planet 4546B with one major difference – this time the action takes place in one of its polar regions.
Now not only do you need to manage your oxygen, thirst, and hunger, but when you're out of the water, roaming the icebergs, you must also monitor your temperature as exposure will swiftly result in hypothermia and death, meaning a respawn and losing some of those precious materials you've gathered on that expedition. There's also the added risk of ice overhead, meaning no guaranteed access to the surface (your tank isn't like real-life SCUBA diving where you have about an hour of oxygen; in Subnautica it's measured in minutes before you must go up for air – though this can be improved through crafting).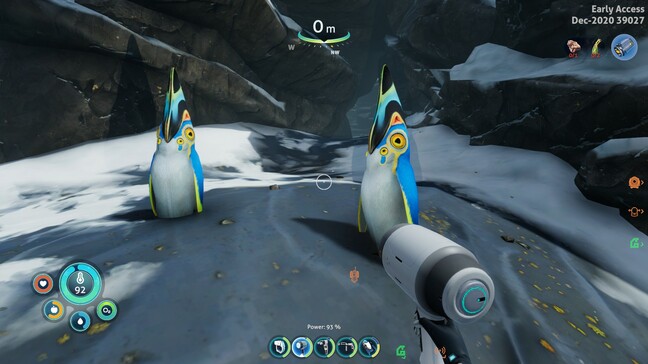 The penguin-like penglings
But at its core Below Zero is in many ways more of the same, not that this is a bad thing. The sequel has taken the gameplay premise of Subnautica and added a bunch of stuff on top – new vehicles (one now on land), new monstrous leviathans (really big and aggressive fish that will devour you if you're not careful), and new biomes, as well as polar-native critters and plant life.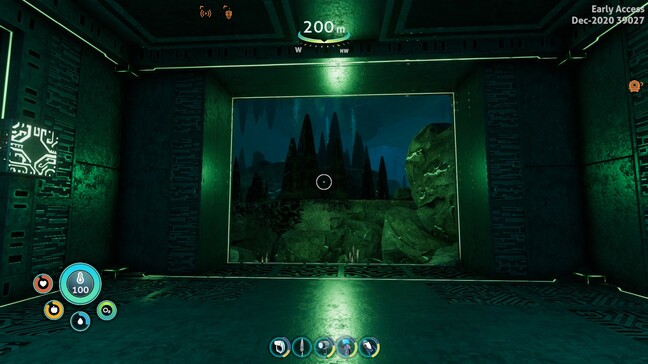 Alien architecture is scattered across the planet
The story seems to be more ladled out too, rather than the "go check this out if you fancy it" pace from before. You take the role of xenologist Robin Ayou whose employer, XenoWorx, has been acquired by Alterra. In typical corpo fashion since the events of Subnautica, Alterra is probing 4546B for its commercial potential, and characters voice concerns about the company monetising and potentially weaponising the Kharaa disease from the first game. She receives a death notification for her sister, Sam, who was on an Alterra mission to 4546B, so Robin buys passage and illegally descends to the icecap region to discover her fate.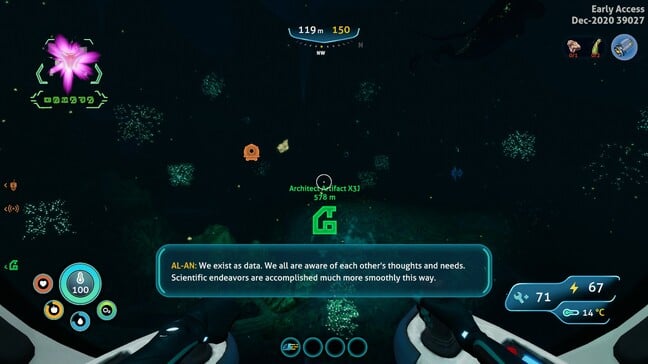 AL-AN's species now exists 'as data'
Below Zero has broader voiced parts too. Faces of characters from ill-fated science missions will pop up when they're speaking as you review collected logs, giving more insight into their personality. The presence of "Architect" technology on the planet is well known by now, and at one point Robin will make direct contact with the sentient alien species, which appears to have ditched individualism and physical bodies in favour of an AI/hivemind kind of deal.
This cut-off portion of the colony, calling itself AL-AN, is able to upload itself to Robin's brain and speaks to her periodically, highlighting areas of interest. The result is that you feel less overwhelmingly isolated than in Subnautica, which gives Below Zero quite a different atmosphere for better or worse.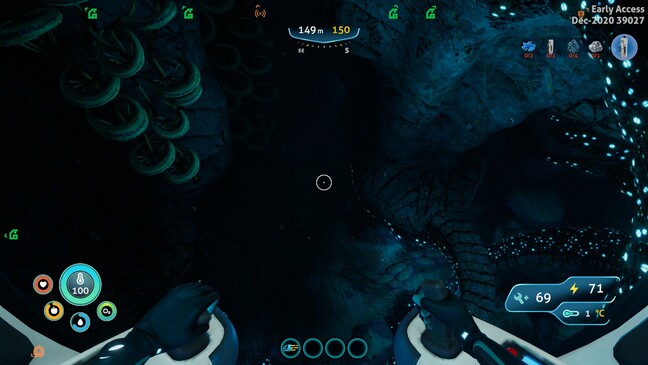 Er, you first?
Regardless, the gameplay remains as brilliant as ever. On one trip out in my freshly minted Seatruck – a replacement for the Seamoth and Cyclops that can be extended with various modules hung off the back – I was hunting for diamonds needed to increase its crush depth, which was capped at 150m. I came across an abyssal crevice in the "twisty bridges" biome and figured they must be found deeper than I can go because I hadn't come across them anywhere else. I left the Seatruck at 149m and hurtled into the black with my Seaglide handheld vehicle. The only light was from the bioluminescence of the surrounding animal and plant life, and of course there was an enormous "chelicerate" leviathan lurking down there.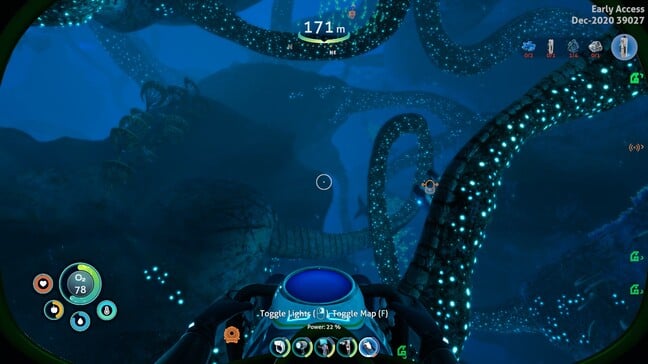 The deeper parts of the world can be incredibly stressful
Scenarios like this are where both games move from kid-friendly survival into mild horror. Though my O2 tank was slightly upgraded, I had to swim deep and oxygen was disappearing by the second. Then add the stress of avoiding the leviathan to the fact you are searching for something specific and rare. I struck gold – well, diamond – but got too greedy like the dwarves of Moria. I lingered, grabbing everything I could, sipping air from the sparse plants that naturally create oxygen bubbles at that depth. I miscalculated.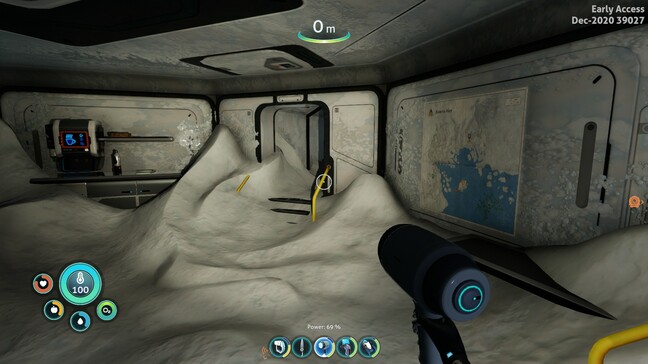 Exploring a long-abandoned polar base
My ascent ended right at the door of my Seatruck, when I ran out of oxygen and drowned, 150m from the surface. So I had to do it again.
Though I'm far from finished – the open beta as it stands allows players to "almost" complete the game, and Subnautica had at least 40 hours' life in it – I imagine Below Zero is full of as many memorable moments as its older sibling. Full release is expected in the "early part of 2021" and the price was recently increased to reflect that. As for bugs, I haven't noticed many except for not losing resources on death when I probably should have. For an early access title, it's been a smooth experience, which makes a nice change. Buy it when it comes out, or now even – just make sure you've played Subnautica first. ®
Bootnotes
All screenshots are from Below Zero. I couldn't be bothered to reinstall Subnautica then go about taking relevant snaps. Also, if you've got this far and are interested, I've started streaming here (on tonight from 9pm GMT), where you can see me check out potential column subjects plus regular nights of Sea of Thieves skulduggery with the wife and friends. It's quite lo-fi right now – I see no point in investing in something that works fine as it is. And if you're wondering why there is no "audience engagement", that's because there isn't an audience. I'm still working on talking to myself as I play. See you there?