Analysis Christian Klein cut a lonely figure in front of mysteriously floating cameras in his computer-generated studio. Yet, presenting a vision of enterprise resource planning arguably as idealised as the CGI mountains looming over his shoulder, SAP's CEO pressed on.
"Having one semantic data layer on your [ERP] platform is a key treasure, which only SAP can offer… Combined with one analytics layer across our apps, it enables you to steer and plan across the enterprise in real-time, based on one source of truth," he told an unseen audience logging into his online presentation of the new product named RISE with SAP this week.
Enterprise Resource Planning, and the single source of the truth it is supposed to provide, is an idea on which SAP has built its fortune since 1972. The problem is, in this fractured yet interconnected business world, industry analysts are questioning whether it is attainable and worth the effort.
For now, SAP has more pressing concerns. Having reset market expectations while suffering a 23 per cent fall in share price last autumn, it is committed to getting customers to the cloud. On it's way there, SAP may take a short-term hit in on-premises licence revenue, but the final destination would offer great lifetime revenue from customers, and a larger share of the wallet, CFO Luka Mucic said at the time.
With mixed preliminary figures for 2020, SAP has bought itself time to marshal some partners and put together a plan.
For starters, RISE with SAP promises a lift and shift of current complex SAP environments into the public, private, and hybrid clouds. That gets customers to the cloud without first going through a daunting standardisation exercise.
In front of this, though, SAP will be solely accountable to the customer.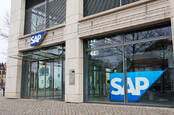 SAP: Come to the cloud with us, we promise there's total accountability and lower TCO with lift-and-shift ERP package
The long list of third parties signing up to the plan includes Accenture, All for One Group, Atos, Capgemini, Cognizant, delaware International, Deloitte Consulting LLP, DXC Technology, EY, IBM, Infosys, HCL, LTI, NTT, PwC, Seidor, Tata, Tech Mahindra, Wipro Limited, and others.
SAP has worked with these businesses before, and even touted a lift-and-shift-to-the-cloud service, dubbed "conversion factories", back in 2019. The difference is this time SAP will be solely accountable to the customer, taking responsibility for keeping the show on the road, with hyperscalers and system integrators falling in behind. In doing so, SAP creates a whole new relationship with its customers.
Gartner research director Paul Saunders said: "If I have SAP software in the data centre and anything goes wrong, it's all on me. In the cloud, if your production environment goes down and you don't ship products, the best case is, you might get your money back for that month's hosting. You certainly don't get your revenue back. But SAP has to change that relationship and it really does come down to customer intimacy. Otherwise, they run this risk of just being a very nice supplier of pretty good finance, supply chain, and HCM software."
CEO Klein said: "Although our customers are already running on a hyperscaler, and somehow they have issues between the infrastructure, the platform and the application, who do they call? If your production is at a standstill, you better know who to call. Now what we are going to offer is end-to-end. We have our partners behind [us], but we are going to make it work. You are getting from us the SLAs … for system availability. Accountability is a very important aspect here."
SLAs, or Service Level Agreements, can be blunt tools that fail to reflect supplier costs in scenarios that inevitably change. In outsourcing, the one-arse-to-kick philosophy has gone out of favour. After global pharma firm AstraZeneca ended up in court with IBM over a £1.1bn outsourcing deal, it signed multiple deals with suppliers and took more control in-house. Experts questioned whether customers were mature enough to understand their impact on ensuring deals go to plan.
Pressed by The Register on how accountability and risk-sharing would be credibly expressed in the contract, SAP's Klein had little more to offer.
The newly introduced RISE with SAP programme not only promises to keep systems as they are in the cloud, it is also fighting the German vendor's battles on two fronts. The second part is getting customers from ERP software older than its desired S/4HANA on to the more modern in-memory platform, something users have been steadfastly sluggish in doing.
Klein took issue with the idea the market is being slow in adopting S/4HANA, which has been available for nearly six years. Although the German vendor sometimes wished it had been faster, the Q4 adoption curve was the fastest it had ever seen for an ERP product, he said.
The new push to shift users from the previous ECC iterations, which see support fizzle out in 2027, is a so-called "business transformation as a service". SAP promises to analyse current business processes, no doubt using the newly acquired Signavio, a specialist in business process analysis and management.
The result is, according to SAP, a business-process redesign based on industry best practices and data from 20,000 SAP customers. Users would then end up with a "standard and modular solution landscape, one semantical data layer, and, finally, building an intelligent enterprise with S/4HANA cloud," Klein said.
He said the plan was being piloted with 130 customers already and was available to the market immediately.
'The unified database is no longer an essential foundation'
But the plan brings us back to whether customers want or need a single version of the truth in the first place.
Gartner's Saunders said: "This whole idea of a single source of truth: when it comes to SAP, it has been kind of the promise, the Holy Grail since time began."
He pointed out that businesses do not only run on structured data, with information on customers and suppliers held on email and collaboration platforms. Here, SAP collaboration with Microsoft and promised integration with Teams may be as important as its vision for ERP in the cloud, Saunders said.
Duncan Jones, veep and principal analyst at Forrester, said a more tech-savvy population of business leaders was kicking back against the idea of adopting a single platform. "They are saying, '[IT] keep on trying to make us accept these corporate standards, ERP or other corporate platforms. They're forcing it on us and it's not working for us.'"
As a result, business teams were looking for leading applications in their own areas of expertise, and buying with their own budgets.
"You can now move faster – weeks instead of years – to get the business benefit you need compared with migrating to one system," Jones said. "That's the New World, but I would counsel against over-standardising anywhere."
Some users were looking to develop so-called digital transformation with existing systems and an architecture that offers various ways to create a UI, with analytics that combine data from multiple sources. "The unified database is no longer an essential foundation," Jones said.
All vendors offer stories that are idealised in their nature. But SAP's must accommodate the reality of complex legacy landscapes, intransigent processes, and powerful business leaders who want to buy the SaaS systems they most desire. Customers will decide if SAP's new narrative has too many loose ends. ®