Databricks, the company behind open-source big data tool Apache Spark, has sucked up a $1bn investment round courtesy of AWS, Microsoft, Google, and more.
The Series G funding, led by newcomer Franklin Templeton Investments, puts the 2013-founded company at a $28bn valuation, more than four times its previous $6.2bn valuation.
Other investors include AWS, CapitalG (Google owner Alphabet's funding outfit), Salesforce Ventures, Microsoft, Andreessen Horowitz (Netscape founder Marc Andreessen's VC firm), and Alkeon Capital Management.
Databricks sells a data platform designed to support analytics and machine learning pipelines with data from a mishmash of sources. It has a data lake technology, now built on blob storage rather than Hadoop, to include the lakehouse concept, which purports to be a hybrid with data warehousing, supporting SQL queries, for example, as well as unstructured data.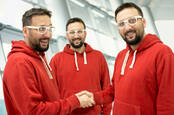 When world+dog has a data platform too, Cloudera has to stand out before next new shiny distracts investors
The move, announced last year, partly brings Databricks into competition with Snowflake, which demonstrated investor appetite for cloud data technologies with its staggering $120bn valuation at IPO. Snowflake is built for analytics of structured data, but has recently announced support for unstructured data. Databricks said it planned to be "IPO-ready" but it had no immediate plans to make the plunge, and the current investment round was not related to any IPO plans.
In a pre-canned statement, Ali Ghodsi, CEO and co-founder of Databricks, said: "[The] lakehouse paradigm is what's fuelling our growth, and it's great to see how excited our investors are to be a part of it."
Databricks' chief technologist and co-founder is Matei Zaharia, the Romanian computer scientist who started the Spark project while studying at UC Berkeley. As it was ported to the Apache Foundation in 2013, it became a popular way to ease analytics and data management on the fiddly and time-consuming Hadoop Distributed File System (HDFS) and was used by Netflix, Yahoo, and eBay. It started off on HDFS, but has since migrated to data lakes built on object storage from AWS, GCP, and Azure.
Databricks is one of many firms now claiming to offer an enterprise-ready data platform, the idea of a place where data scientists can get all their data, clean and reliably with assured provenance.
Given its $28bn valuation, investors seem to think of it as a potential winner. By way of comparison, another data platform contender from the era of Hadoop hype, Cloudera, currently sports a market capitalisation of around $5.06bn at the time of writing, just over a fifth of Databricks' apparent value. ®