The Alphabet Workers Union on Wednesday filed a labor complaint against Google contractor Modis, claiming that for the past six months the staffing firm has prevented workers from discussing wages and job conditions as allowed under US law.
The complaint, filed with the US National Labor Relations Board by CWA Local 1400's Alphabet Workers Union, alleges that Adecco Group subsidiary Modis, which provides staff for Google's data centers, suspended contact worker and AWU member Shannon Wait for complaining about working conditions and questioning pay.
The AWU, formed last month, claims that a Modis supervisor, prior to the suspension, questioned Wait about a personal Facebook post she'd made in which she criticized management for failing to replace damaged water bottles and voiced support for the union.
Wait, according to the AWU, works at the Google data center in Moncks Corner, South Carolina, and has seen repairs double during the COVID-19 pandemic, creating concerns about safety.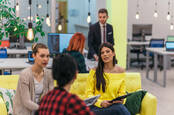 Techies start growing an Alphabet-wide labor union: 200-plus sign up, only tens of thousands more to go
Wait's supervisor, it's alleged, previously directed Wait not to talk about wages with co-workers after she asked why some workers did not receive bonuses.
AWU contends that numerous Alphabet workers are unfairly classified as temps, vendors, or contractors (TVCs), a designation that allows the company to pay less in benefits than it would for a full-time employee.
"These are the conditions that we face as TVCs – we're paid less, we're laid off when needed, and we often don't have access to safe, transparent working conditions," said Wait in a statement. "Alphabet and Google can do better to ensure that all workers, including their contractors, are treated fairly. Google became a trillion dollar company last year. They can afford to treat us right."
Other labor complaints related to the ad giant's temp firms and to Google itself suggest different priorities. IT services biz HCL America (HCL Technologies), which provides contract workers to Google in Pittsburgh, was the subject of a series of labor complaints last year for resisting unionization attempts.
In December, 2020, the National Labor Relations Board accused Alphabet and Google of violating labor laws by spying on employees, interfering with protected activity, and retaliation.
Google, Modis, and Adecco Group did not respond to requests for comment.
In a statement emailed to The Register, Parul Koul, executive chair of AWU, saud, "We hope the NLRB finds Modis in violation of federal labor law so that TVCs employed by Modis at this and all data centers know they have recourse when their managers engage in illegal activity."
Companies in Silicon Valley and elsewhere have in recent years increased their use of non-employee labor while frequently opposing unionization.
A 2016 paper by economists Lawrence Katz and Alan Krueger, found, "The percentage of workers engaged in alternative work arrangements – defined as temporary help agency workers, on-call workers, contract workers, and independent contractors or freelancers – rose from 10.7 percent in February 2005 to 15.8 percent in late 2015."
How workers get classified affects both the amount they get paid and the legal rights available to them. It also affects the tax revenue paid to states and the federal government, funds that affect public services and programs.
What's more, reliance on third-party contracting firms reduces in-house positions that might find unionization appealing as a defense against overly demanding or unsafe work.
Last year, California enacted Assembly Bill 5 to clarify when workers can be classified as independent contractors, in an effort to push back against the trend toward TVCs. Five "gig economy" companies – DoorDash, Instacart, Postmates, Lyft and Uber – subsequently shelled out over $200m to pass California Prop. 22 in November 2020, exempting them from the law. ®